As part of my previously mentioned side project the ability to replace crystal oscillators in a circuit with a higher quality frequency reference is really handy, to let me eliminate a bunch of uncertainty from some test setups.
A simple function generator is the classic way to handle this, although if you need square wave output it quickly gets hard to find options, with arbitrary waveform generators (essentially just DACs) the common option. If you can get away with just sine wave output an RF synthesizer is the other main option.
While researching these I discovered the
CG635 Clock Generator from Stanford Research
, and some time later picked one of these up used.
As well as being a nice square wave generator at arbitrary voltages these also have another set of outputs on the rear of the unit on an 8p8c (RJ45) connector, in both RS422 (for lower frequencies) and LVDS (full range) formats, as well as some power rails to allow a variety of less common output formats.
All I needed was 1.8v LVCMOS output, and could get that from the front panel output, but I'd then need a coax tail on my boards, as well as potentially running into voltage rail issues so I wanted to use the pod output instead. Unfortunately none of the pods available from Stanford Research do LVCMOS output, so I'd have to make my own, which I did.
The key chip in my custom pod is the
TI SN65LVDS4
, a 1.8v capable single channel LVDS reciever that operates at the frequencies I need. The only downside is this chip is only available in a single form factor, a 1.5mm x 2mm 10 pin UQFN, which is far too small to hand solder with an iron. The rest of the circuit is just some LED indicators to signal status.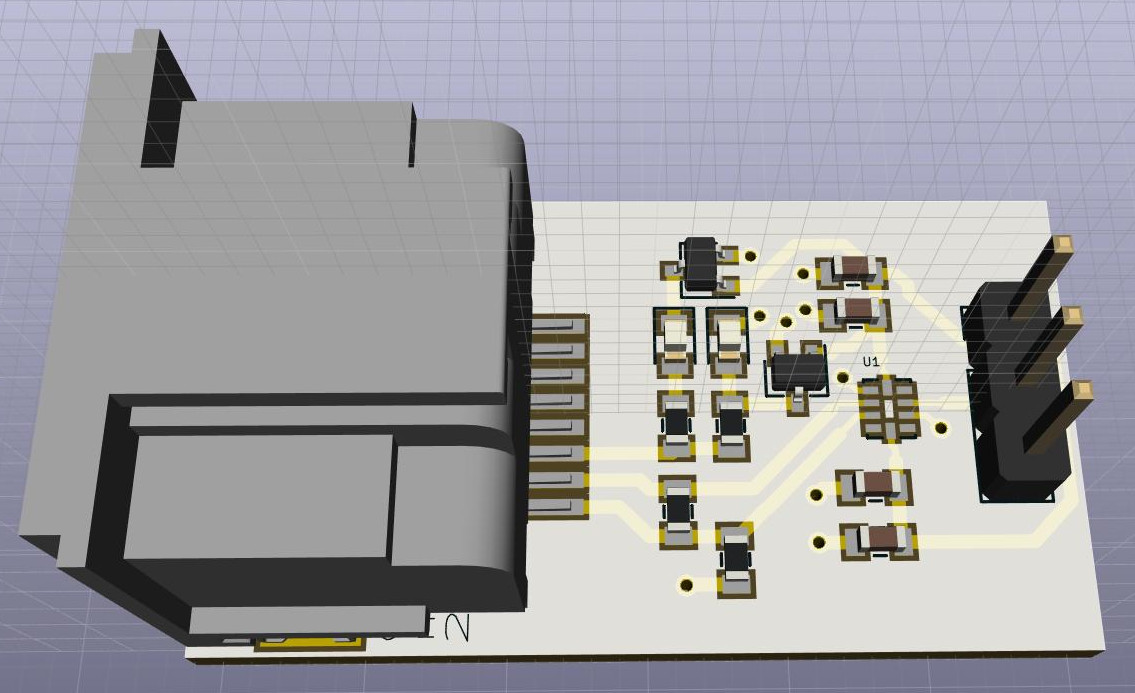 Here's a rendering of the board from KiCad.
Normally "not hand solderable" for me has meant getting the board assembled, however my normal assembly house doesn't offer custom PCB finishes, and I wanted these to have white solder mask with black silkscreen as a nice UX when I go to use them, so instead I decided to try my hand at skillet reflow as it's a nice option given the space I've got in my tiny apartment (the
classic tutorial on this from SparkFun
is a good read if you're interested). Instead of just a simple plate used for cooking you can now buy hot plates with what are essentially just soldering iron temperature controllers, sold as pre-heaters making it easier to come close to a normal soldering profile.
Sadly, actually acquiring the hot plate turned into a bit of a mess, the first one I ordered in May never turned up, and it wasn't until mid-July that one arrived from a different supplier.
Because of the aforementioned lack of space instead of using stencils I simply hand-applied (leaded) paste, without even an assist tool (which I probably will acquire for next time), then hand-mounted the components, and dropped them on the plate to reflow. I had one resistor turn 90 degrees, and a few bridges from excessive paste, but for a first attempt I was really happy.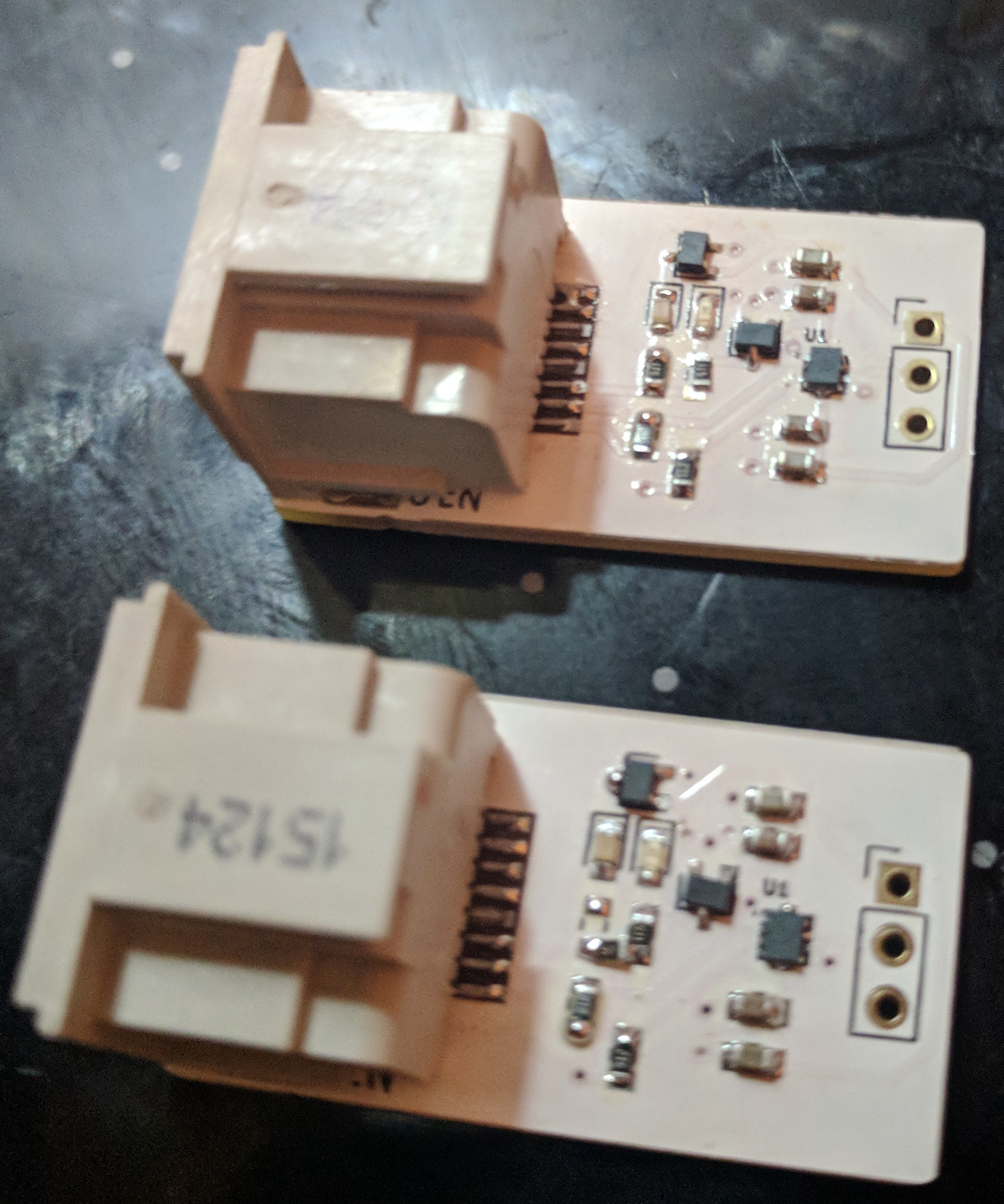 Here's a photo of the first two just after being taken off the hot plate.
Once the reflow was complete it was time to start testing, and this was where I ran into my biggest problems.
The two big problems were with the power supply I was using, and with my oscilloscope.
The power supply (A Keithley 228 Voltage/Current source) is from the 80's (Keithley's "BROWN" era), and while it has nice specs, doesn't have the most obvious UI. Somehow I'd set it to limit at 0ma output current, and if you're not looking at the segment lights it's easy to miss. At work I have an
EEZ H24005
which also resets the current limit to zero on clear, however it's much more obvious when limiting, and a power supply with that level of UX is now on my "to buy" list.
The issues with my scope were much simpler. Currently I only have an old Rigol DS1052E scope, and while it works fine it is a bit of a pain to use, but ultimately I made a very simple mistake while testing. I was feeding in a trigger signal direct from the CG635's front outputs, and couldn't figure out why the generator was putting out such a high voltage (implausibly so). To cut the story short, I'd simply forgotten that the scope was set for use with 10x probes, and once I realised that everything made rather more sense. An oscilloscope with auto-detection for 10x probes, as well as a bunch of other features I want in a scope (much bigger screen for one), has now been ordered, but won't arrive for a while yet.
Ultimately the boards work fine, but until the new scope arrives I can't determine signal quality of them, but at least they're ready for when I'll need them, which is great for flow.